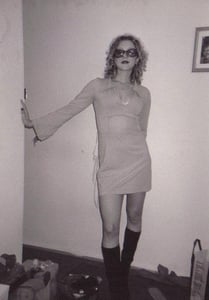 $

8.00
Well it's safe to say we are pretty excited about this one. The first ever release by the infamous and mysterious The Mars Hotel!
The Mars Hotel were Jenni McKenzie and John McKeown (The Yummy Fur / 1990s) plus friends and family (Jane McKeown of Lung Leg / Peter Parker). Lived on a diet of Jaffa Cakes and Elton John and stayed home mostly between 2001 - 2004, rarely venturing outside of their native Glasgow.
None of these songs have seen the light of day before and Space Dog is especially proud to get the chance to let folks hear em!
SIDE WAN
Female Company
Kids in Guernica
Noughts and Crosses
Ursula
Pink Fish
Prince Harry
SIDE TOO
James Brown
Wings
Michael
Domingo
Homer
Ropongi
The Grail
This is a one time deal, folks. 100 coloured tapes with sexy (world) covers and coloured box...all hand numbered. There'll be MP3s too.
Pre-order now, as these will be gone quick. We will have a bunch here online, with remaining copies being sold at Monorail in Glasgow and maybe a couple of other places.
Tapes will be shipped in late August, with MP3s sent out a week or so before.